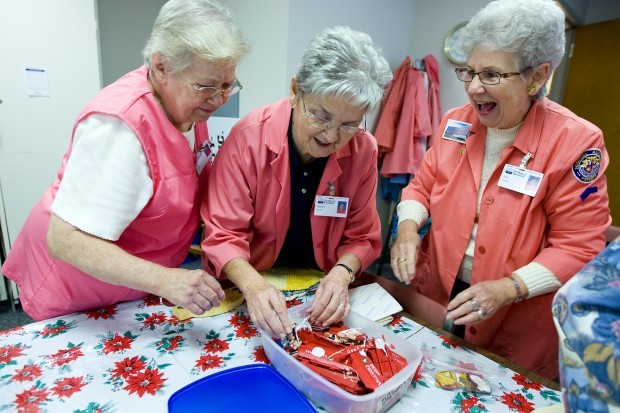 Trinity Hospital Auxiliary
What Does The Auxiliary Do? The Trinity Hospital Auxiliary's purpose is to provide a comforting touch to the residents in skilled nursing including weekly bingo, reading, visiting and to be there as a support.
Several parties are held for the residents and the favorite is the Valentines party where treats and candies are provided for the residents and staff and a king and queen are crowned. Members of the auxiliary bake and cook, make crafts, and do sales at bazaars for Christmas.
Several fund raisers are held during the year including soup and salad bars at the hospital for anyone who would like to attend. Members of the auxiliary also assist in the community blood drive.
The hospital staff lets the Auxiliary know what is needed and assistance is given in purchasing such items as a new vacuum and a washing machine for housekeeping. Telemedicine was recently assisted in acquiring two badly needed chairs and a doctor's stool. Another example was the assistance given in the remodel of the hospital ER waiting area by the Auxiliary.
Who Is Needed? Recruitment comes from the community and multi-talented people are always appreciated. Special talents and personal schedules are matched to the hospital's needs.
Volunteers are male, female, retired, employed, or students. These uncommon people have one common purpose – they are dedicated to helping others.
Interested persons can fill out an application which is available in the Gift Shop or fill out the online application below.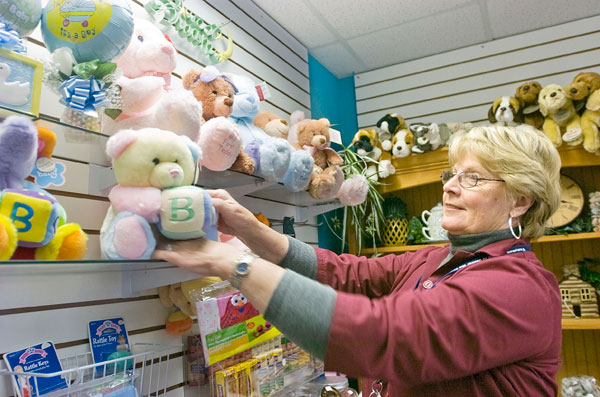 Hospital Gift Shop
The purpose of the Gift Shop is to provide affordable gifts for family and friends of patients. Many of the items that are for sale in the gift shop are donated or are on consignment. The variety of gifts vary with the seasons. A book cart has been added that provides free books for patients to read during their stay.
There is also a second gift shop at the Merchant's Mall in Weaverville where the items for sale are geared towards the general public. See's Candy is sold all year as well as the hospital gift shop, however the chocolates at the gift shop are only offered when the weather permits.
If you have time to spare and enjoy helping others, then volunteering is for you. Talk to a member of the Auxiliary, pick up an application, or contact us by mail at:
Trinity Hospital Auxiliary
P.O. Box 773
Weaverville, CA 96093
Meetings are held at 1:00 in the lunchroom the 2nd Monday of each month.
We hope you will consider joining the Trinity Hospital Auxiliary.