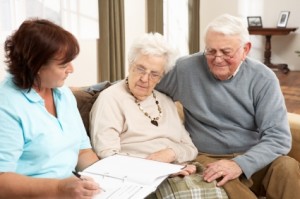 P.O. Box 1229
Weaverville, CA 96093
(530) 623-6700 – (530) 623-6065 fax
Monday – Friday 8:00 – 4:30
Closed holidays
Illness can be a traumatic time for both the patient and the family. That is why Mountain Communities Healthcare District has developed its own hospital based Home Health Agency. Trinity Home Health provides: Skilled Nursing, Physical Therapy and Certified Home Health Aide.
Services Provided 
Teach family or caregivers to care for the patient at home
Teach patients, family, & caregivers about new medications, side effects
and how they relate to other medications being taken
Wound care needs: wound vac system, dressing changes, staple/stitch removal
Diabetic education/teaching
Home infusion therapy-such as IV antibiotics
Catheter care and bladder training
Ostomy Management
Disease Process education/teaching
End of Life Care
Education & teaching of gait training, strengthening & therapeutic exercises, and transfer training
Evaluation for equipment needs, walker, wheelchair, grab bars, shower bench etc.
Education and teaching on proper methods of giving a bed, shower, or chair bath.
Emotional support
Education and teaching on how to regain speech, swallowing, cognition, verbal, & non-verbal functions
Education and teaching for regaining communication skills and community resources
Your personal physician orders these services. A Plan of Treatment tailored to your individual needs is developed, encouraging the involvement of family members and caregivers in achieving your comfort and wellness goals.
Trinity Home Health visits patients in the following areas:
Weaverville
Junction City
Big Bar
Lewiston
Hayfork
Douglas City
Trinity Center
Coffee Creek
So when you or a family member is going home after an illness, think of Trinity Home Health. Ask your doctor to send us a referral, and we will evaluate your needs. We are right here in your community ready to provide the above services and get you back on the road to wellness.