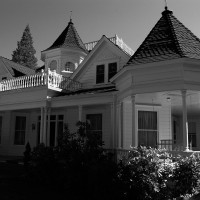 Weaverville
Founded in 1850, is a historic California Gold Rush town. Nestled at the foot of the Trinity Alps Wilderness Area, Weaverville was once home to more than 2,000 Chinese gold miners and had its own Chinatown. Weaverville is home to the oldest continually used Chinese temple in California. Unlike a number of other historic towns, Weaverville's Historic District continues to thrive with business activity including coffeehouses, gift shops, clothing stores, antique stores and one of the oldest active County Court Houses in California. Weaverville continues to celebrate all segments of its history. Pioneers and settlers, Native Americans and Chinese. Legend has it that Weaverville was part of the inspiration for James Hilton's Lost Horizon, Weaverville being an example of the mythical Shangri-La.
Surrounding Weaverville is over half million acres of wilderness area, added to the National Wilderness Preservation System in 1984. The area has over 520 miles of hiking trails, including 17 miles of the Pacific Crest Trail and 35 miles of the Bigfoot Trail. Glacial cirques hold some 55 small lakes, many stocked with fish. Streams offer trout fishing, and tributaries to the lower Trinity hold migratory steelhead and Chinook salmon. The Trinity Alps Wilderness includes rough ridges with peaks ranging from 7,000 to 9,000 feet in elevation, deep glacial canyons and spectacular mountain meadows. As much as 12 feet of snow falls on the high country every year. The area is drained on the north by the wild and scenic Salmon River and on the south by the wild and scenic Trinity River. The variation in elevation, soil types and geology make this region one of the most diverse with respect to native plants and animals.
Self-guided walking tours are available of both historic downtown and local cemeteries. Whether you're here for the history, the scenery, or just for the solitude we here at Mountain Communities Healthcare District would like to say welcome, and enjoy our Shangri-La.
Trinity Lake
In 1958, a plan to divert water from Trinity River to California's Central Valley led to the construction of Trinity Dam and the creation of Trinity Lake. The lake's capacity is 2,447,650 acre feet, making it one of the largest reservoirs in California. Trinity boasts unparalleled water sports opportunity. From world class trout and bass fishing, to miles of smooth blue water perfect for boating, skiing and boarding. Accommodations range from lakeside cabin rentals, nearby RV parks and campgrounds, and nearly 147 miles of shoreline for camping and anchoring private and rental boats. In addition to the lake, the lower Trinity River offers superb whitewater rafting. With guarantied flows and sunny 90 degrees temperatures it's always a good time for rafting on the lower Trinity.
Trinity Alps
With approximately 520 miles of hiking trails visitors are spoiled for choice. The most popular entry points into the wilderness are from the Weaverville area around Trinity Lake. Historic gold mining structures and relics add interest for visitors in various parts of the wilderness. Gold panning continues to be good for the experienced amateur. A 15 acre glacier occurs on the north side of Thompson Peak, the highest point in the wilderness at 9,003 ft.
Joss House
The Weaverville Joss House, a Taoist temple, is the oldest continuously used Chinese temple in California. On display are art objects, pictures, mining tools, and weapons used in the 1854 Tong War. This Taoist temple is still a place of worship and a fascinating look into the role played by Chinese immigrants in early California history.